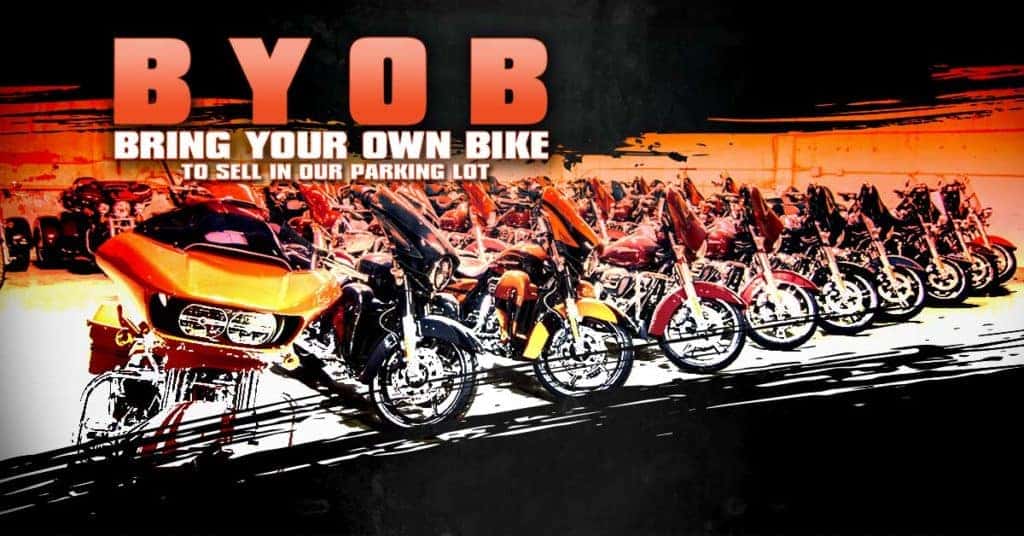 Selling a motorcycle? Get a free spot in our lot to display your bike during our BYOB event. All makes/models welcome.
BYOB Bring Your Own Bike
💲(to sell in our parking lot)💲
Special Event
---
FAQS:
How much does it cost?
It's free! Free to display your bike in our lot for sale and free to attend to shop!
The bike I'm selling isn't a Harley…
All makes/models of street legal 2 or 3 wheel motorcycles welcome including Harley-Davidson as well as other brands!
Are there financing options available?
Yes! Loan options to qualified buyers available on select models via Harley-Davidson Rider-to-Rider Financing. See dealership for details.
Do I have to attend all of the BYOB Events?
No! When signing up for a seller's spot, indicate which date/s/ you'd like to attend. You may sign up for as many dates as you'd like!
I have more than one bike for sale, how many spots can I get?
Space is limited, so signup below and we'll follow-up. We'll do our best to accommodate as many sellers and motorcycles as possible.
I want to sell my bike ASAP!
Can't wait til our BYOB event? Our in-house Inventory Specialists buy motorcycles and are always on the look out! Complete the form below, indicating you would like to sell to us ahead of the event and we'll follow up.
I'm not selling a bike, but I want to come shop
All are welcome! No tickets required to attend and shop this event. If you need a motorcycle loan, ask about Rider-to-Rider financing and we may be able to help even if you're not buying a motorcycle from the dealership.
---
REQUEST A FREE SELLER'S SPOT: