2020 Harley-Davidson Street 750 in Sunrise, FL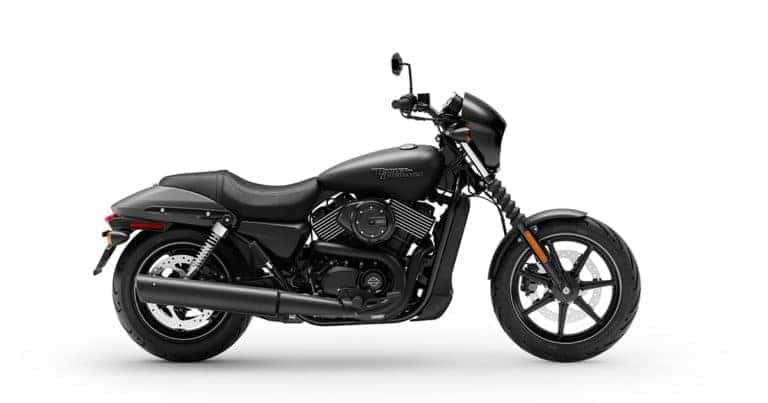 If you're on the hunt for a city-ready motorcycle that looks as tough as it rides, the 2020 Harley-Davidson Street 750 is your new horse. Perfectly equipped to take on the busy city boulevards, the Street 750 is ready to hit the road when you are.
Paint Options
The 2020 Harley-Davidson Street 750 comes in five factory paint color options: Vivid Black, Performance Orange, Black Denim, Barracuda Silver Deluxe, and Vivid Black Deluxe. The blacked-out engine and two-into-one exhaust give the 2020 Sport 750 classically tough Harley appearance. The contrasting silver steel Harley medallion on the fuel tank furthers this bike's industrial look. From the cafe-inspired windscreen to the black seven-spoke wheels, the new Sport 750 brings style back to the streets.
True to the Harley experience, the Sport 750 is highly customizable to let you create a motorcycle that matches your style. But whether you ride your Street 750 fresh out of the factory or make it your own, you'll have one of the best-looking city bikes on the street.
Styling
Harley-Davidson has put a lot of care into creating the 2020 Street 750. For its low price tag, you get a great array of features to make for a quality city cruiser.
The Street 750's low-slung personality and light weight make it more nimble, easier to take off the side stand, and quicker to get up and go in a busy city. The bike's low center of gravity and seat height lend themselves well to winding in and out of traffic and staying stable when you're riding slow. The shocks are tuned to provide you with a comfortable ride and to smooth out rougher roads. Equip your Street 750 with the optional anti-lock braking system to maintain ultimate control over your bike.
The 2020 Street 750 is 492 pounds as shipped and 514 pounds when in running order. It's 87.2 inches long and has a 59.8-inch wheelbase. It has a 25.7-inch laden seat height and 5.7 inches of ground clearance. The Street 750's stylishly dark looks and engineered swagger redefines what's expected of a city bike.
Engine
Taking back the streets is easy with the Street 750's efficiently powerful engine. Whether you're doubling up with your date or on your way to work, the Street 750 gives you enough power to make every trip feel like a joyride.
The 2020 Street 750 is equipped with a liquid-cooled Revolution X V-twin engine with a 46-cubic-inch displacement, 3.35-inch bore, and 2.6-inch stroke. It gives you 43.5 pound-feet of torque to carve the city streets with. The Street 750 has a 3.5-gallon gas tank and a 55-mpg rating. Its engine has an 11:01 compression ratio.
With enough power to get you through the city in style, the 2020 Harley-Davidson Street 750 gives city dwellers an advantage when it comes to making the best of commutes. Whether you're looking for your first Harley, or an exciting model to add to your collection, the 2020 Street 750 is ready to bring you closer to the heart of the city.