2020 Harley-Davidson Softail Fat Boy 114 in Sunrise, FL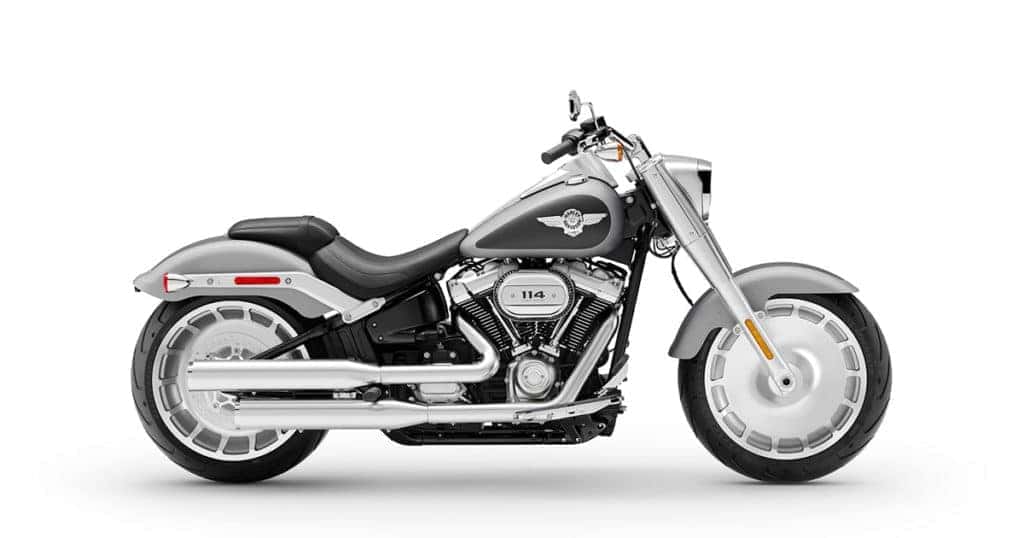 The Harley-Davidson Fat Boy cruiser is the original icon that changed it all. Called the "Fat Boy" because of its massive presence, it's a bike like no other. The 2020 model has done it all over again with its muscular look and legendary V-twin Milwaukee-Eight engine. Let's take a close-up look at the ripped and refined 2020 Harley-Davidson Softail Fat Boy 114.
Paint Options
The 2020 Harley-Davidson Softail Fat Boy 114 is available in your choice of eight colors and color combinations. Pick from classy vivid black, midnight blue, barracuda silver, spruce, river rock gray with vivid black, the flashy barracuda silver denim with black denim, the sexy stiletto red, and the premium zephyr blue with black sunglo finish.
Styling
The upcoming Softail Fat Boy 114 touts the broadest front tire offered by Harley-Davidson. Get a 160 mm tire up front and a 240 mm wheel in the back, while the solid-disc Lakester cast aluminum wheels add a distinctive look to this one-of-a-kind bike.
Its high-performance front suspension utilizes sophisticated technology to design a racing-style cartridge fork that reduces overall weight and offers linear dampening characteristics. This upcoming version is 30 pounds lighter than previous generations, weighing in at just 699 pounds in running order. Easily adjust your 2020 Fat Boy's mono rear shocks that not only perform outstandingly well while cornering, but it also preserves that coveted Fat Boy hardtail look.
You'll appreciate this modern Fat Boy's satin chrome finishes. Bright, sculpted accents make a big statement. The signature LED lighting package graces the front of the bike and offers excellent nighttime visibility. Get your Fat Boy equipped with anti-lock brakes and a security system standard for the 2020 model year.
Engine
The 2020 Harley-Davidson Fat Boy Softail 114 is equipped with a Milwaukee-Eight Big Twin "Wafflehead" engine. Yes. You read that right. This bike comes with a 144 cubic inch motor that runs on eight valves and boasts an enormous 5-gallon fuel tank. It delivers that gut-wrenching rumble that only a Harley-Davidson motorcycle can. First introduced in 2016, it's Harley's third all-new Big Twin in 80 years, and it's making waves throughout the biking community with its 10.5:1 compression ratio.
Now lighter than the previous generation and slinging buckets full of torque from its legendary Big Twin, you'll feel the difference as soon as you hit the throttle of this new Fat Boy 114. Its characteristic eight valves are housed in two cylinders that sit in the traditional V-twin configuration, and together they produce 119 foot-pounds of torque.
It's an outstanding example of a powerful, smooth-running engine with crisp throttle response and plenty of low-end growl. This bike also earns exceptional gas mileage. You can expect to get an estimated 47 mpg combined.